Gmail & G Suite
How To Upload A Mailing List To Gmail Google Contacts
Here's how to upload a mailing list to Gmail Google Contacts.
Google Contacts is the address book that Gmail uses to store email addresses. You can access Google Contacts from your Gmail Inbox using the drop down menu from the top left corner of your screen or you can go to the URL https://www.google.com/contacts/ and login with your Gmail credentials.
Remember, Google Contacts integrate with Flashissue and can be used to create mailing lists for sending your emails to targeted groups of people.
Instead of adding contacts manually to your Google Contacts you can upload a list of many emails using the Import feature.
Create a .csv file for uploading and save it to your computer's desktop. You can also export an address book from another webmail service.
Click the More button on the just above where you view your contacts and select Import.
Follow the steps to upload your file.
Once you've done this all the emails you just uploaded will be added to your Google Contacts as individual people.
Here's something to bear in mind when creating your .CSV file:
These CSV files work with Outlook, Outlook Express, Yahoo! Mail, Hotmail, Eudora, and some other email providers. But the CSV files that these applications produce might not contain all of the supported contact fields. For example, when Outlook exports to a CSV file, it omits data including attachments, distribution lists, contact pictures, the "file as" field, the "alias" field, and text formatting in the "notes" field. Google Contacts doesn't have a way to know what was omitted, so we suggest that you manually copy over any important information in these fields after you import your contacts.
Now you have uploaded your emails to Google Contacts you can create a mailing list using Flashissue for sending to groups of people.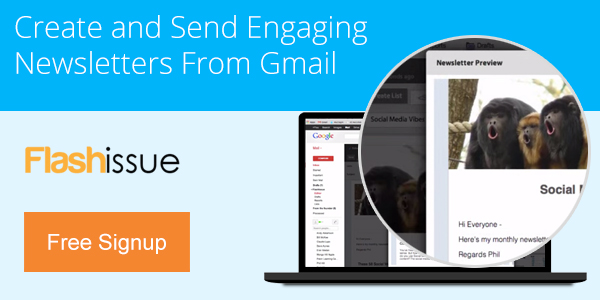 Next:
How to Create a mailing list in Gmail.
How to create a report in Gmail: Track the performance of emails sent via Gmail to your mailing list.