Try it for free
Simple, affordable pricing
A collection of resources, specialized services and consultants to help you grow your business
Starter
Essentials to start

$9.99 $0
one payment for 24 months
100 monthly email credits
Up to 300 Contacts
No branded signature
Gmail inbox integration
Reports & analytics
Small
Beyond starter

$79 $0
one payment for 24 months
Includes
Starter
250 monthly email credits
Unlimited contacts
Up to 5 team members
Medium
Send 5000 monthly

$129 $0
one payment for 24 months
Includes
Small
5,000 monthly email credits
Up to 10 team members
Large
For bigger needs

$199 $0
one payment for 24 months
Includes
Medium
10,000 monthly email credits
Up to 50 team members
Perfect tool for companies
Enterprise teams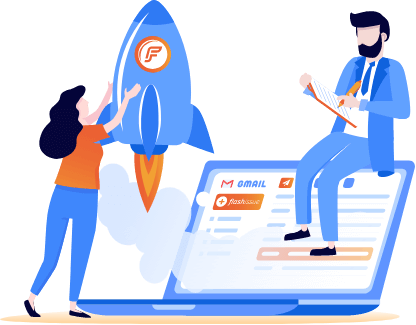 Need a larger plan?
Find out how Flashissue can improve communication in your organization today.
Frequently Asked Questions
Do you offer non-profit or education discounts?
Yes. Non-profits and educators receive a 10% discount on all plans. Please send us an email to find out more about our discounts.
Can I upgrade, downgrade or cancel at any time?
Yes. Flashissue is a pay-as-you-go service and you can upgrade, downgrade or cancel at any time. Click on "Pricing Plans" in your Flashissue account to change your plan.
Do I need to enter my credit card info to sign up?
No. You can sign up and use all Flashissue features for 14 days without entering your credit card details. At the end of your trial, you can either choose to downgrade to our free tier, or pick a plan and enter your card details.
What forms of payment do you accept?
We accept all major credit cards including Visa, Mastercard, Discover and American Express. Currently we do not handle payments via Paypal. If you are an Enterprise customer, email enterprise@flashissue.com to inquire about other forms of payment.
What happens if I exceed my monthly send limit?
If you exceed your monthly send limit, your campaign won't be sent out. If you'd like to send more emails, you'll have to upgrade your plan.
What happens when my free trial is over?
After the 14 day trial you will be automatically downgraded to our free plan if you do nothing. If you want to keep your paid plan, you'll need to enter your card details and confirm.
How does the free trial work?
During your free trial you get access to all the features of our small plan - 250 monthly email credits, unlimited contacts & drafts.
Get started with Flashissue now
Create stunning, professional newsletters in the blink of an eye.
Quick and Easy as 1-2-3