Gmail & G Suite
Create A Gmail Mailing List
A Gmail mailing list is a very powerful tool and if used correctly it can help promote you or your business to your audience.
What is a Gmail mailing list?
A mailing list is simply a list of email addresses to which the same information is being sent. In our case the information you are sending is created and sent via Gmail and  your mailing list will be created from the contacts you have in your Google address book.
Collectively your Google Contacts are called your online address book and they are integrated with Gmail, Calendar, Drive, and other Google products. Think of it as your cloud based rolodex.
If you don't already have a Google address book, here's some great tips from Hacknews on how to get started.
How do I create a Gmail mailing list?
To create a mailing list in Gmail you'll need to use a service like Flashissue. With Flashissue you'll be able to create a nicely designed email inside Gmail, pick a mailing list to send it to and measure how people open and click on the content in your message.
You can add these marketing features to Gmail by clicking here.
Step 1: Go to your Gmail inbox and select Lists

Step 2: Click New List button
Step 3: S
elect contacts for your Gmail mailing list.
Why should I create a Gmail mailing list?
There are a number of reasons for using a mailing list in this way:
It's faster and a more efficient way to target a group of people with the same message.

You can run analytics reports on the same email sent to a group of people (i.e. like running a campaign)
Once set up a Gmail mailing lists can be used repeated times again saving you time.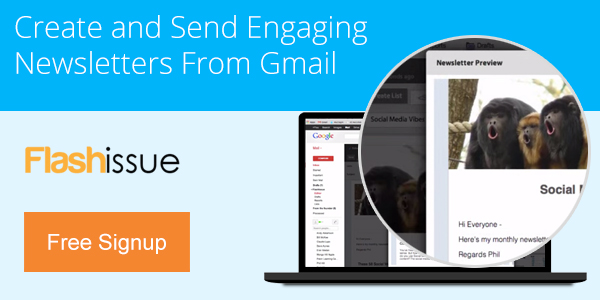 Related articles