Email Marketing
How to avoid Gmail sending limits and spam filters
Avoid Gmail sending limits and spam filters with these easy steps. Get better deliverability when creating & sending Gmail HTML newsletters with Gmail.
When it comes to finding the truth behind Gmail sending limits and when and how Google treats your emails as spam, the waters are murky.
I've done a fair amount of research on this and most of what you can glean is best derived from reading behind the lines. As far as I know, there isn't any officially published content on how Google imposes sending limits or treats your emails as spam.
Step 1: Do not send more than 500 emails per day
Gmail does impose a send limit for emails. Google will disable your account for 24 hours if exceed this number or you get too many bounces:
If you read through the Google forums, it's not even this clear cut. There are numerous examples of users sending less than this number of emails and still getting dinged. I would suggest the following:
Keep the number of recipients lower initially, say 100 names.
Send the email to the people you have had recent contact with via email
Send the email to people who have been in your address book for a while
Avoid uploading a big batch of names to your address book (remember this is how spammers behave)
To avoid being penalized by Google for exceeding sending limits you can use a service such as Flashissue. Flashissue will silently route large bulk email campaigns through it's own email servers thereby avoiding issues with Google's limits.
Step 2: Send legitimately good content and engage your audience.
In the old days if you included the words like "free", "sex" or "special offer" in your email Subject you were blocked as a spam. This is no longer the case and there are many myths surrounding email deliverability of words you use or dont use.
I listened to a great panel of industry experts on this subject last week and they were unanimous about this myth.  Yes, if you stick the word "Viagra" in the subject or anywhere in the email and you're trying sell Viagra, you'll get blocked by Gmail.
That's not necessarily because of the word Viagra but emails containing this word normally ARE sent by spammers. I've included the word here in this post and successfully emailed out this article without being flagged as spam.
If you are genuinely trying to send email content to people you know and they are going to want what you send them, then you should be ok. Google has extremely complex algorithms scanning your account designed to weed out spammers, so if you're trying to beat them at this game by sending poor content, then you'll lose.
What's much more important is for you to genuinely engage your audience.
Take the full service email newsletter companies, like Mailchimp and Constant Contact, they wrestle day in day out with trying to get newsletters sent by their customers into the inboxes of Gmail and Yahoo users.
Much of what these companies advise you to do in order to get your newsletter delivered with them also applies to you if you're trying to send an email out from Gmail (it's the same principles but in reverse).
It's important to consider these specific mistakes we've seen can hurt engagement:
Sending email to old or stale contacts, or perhaps even to users who aren't users
Uploading everyone who signs up for your application or website, especially Facebook addresses
Sharing lists between organizations without permission
Sending email too often or even not often enough, so your audience loses interest or forgets you exist
It's best practice to stick with permission-based lists and keep your content geared toward the stuff your subscribers expect. If you're just starting out, take a look at some common mistakes so you can avoid them."
Most email services advocate building double opt in email lists i.e. someone first enters their email address in your form called "Subscribe To Newsletter"; they then receive an email asking them to confirm this is what they want. This is called permission based marketing.
That's all and well but there are legitimate scenarios when I want to send an email newsletter to a number of people in my address book; they havent necessarily "opted in" – because you can't do this through Gmail – but you do personally know them and consider your content will be of interest.
One such scenario would be a sales manager who uses Gmail, wanting to send out a newsletter to her prospects to stay front of mind or a Yoga Studio owner wanting to make an announcement of a new class.
There's nothing wrong with sending personal newsletters to your rolodex contacts,  as long as you are being reasonable. Unfortunately, Gmail doesn't have an "Unsubscribe" link for you to include at the bottom of your newsletter so people can politely tell you not send anything else.
Flashissue provides the functionality you need to create newsletters directly inside Gmail whilst curing the problem of having to worry about Google's sending limits.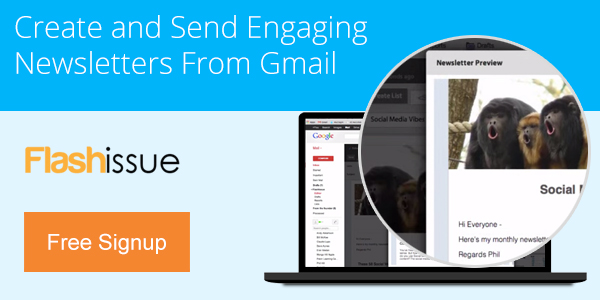 Next steps to avoid Gmail bulk sending limits
If you're looking to create Gmail HTML newsletters without having to exit Gmail then a service like
Flashissue
makes life quicker and gives a more professional look.
Flashissue provides a gallery of
Gmail HTML templates
inside your Gmail Inbox that are predesigned and ready to customize. In addition, Flashissue's email delivery technology automatically routes larger email campaigns directly through it's own email servers thereby avoiding Gmail's bulk sending limits and ensuring the best deliverability.
Flashissue is free to use
 for anyone with a Gmail or Google apps account.
Related articles