Gmail & G Suite
Gmail Adds A Newsletter Creator, Mailing Lists & Analytics
Unlock the profitability of your "rolodex" and start sending professional marketing emails to the people who matter to your business.
Who needs the costly hassles of managing yet another email service? Flashissue lets you create an email newsletter with Gmail. Our features let you locate content for your newsletter in seconds, whether that's from your own blog or from some interesting articles you've found on line.
You may be asking "how do I create a mailing list in Gmail?". The answer is that you can't. There's also no way to manage subscribes and unsubscribes – a must when it comes to sending out email newsletters (if you want to adhere to the spam guidelines, that is). Well, we're addressing all this:
Instead of having to use another service, you can also build email lists from your contacts and after you've sent out the newsletter you can measure your effectiveness by accessing full analytics on your campaign.
Everything happens inside Gmail, so you save time and unlock the profitability of email marketing without having to sign up for another web service.
We're inviting people to our private prelaunch. Enter you email below if you'd like to receive an invite.

Here's some screens: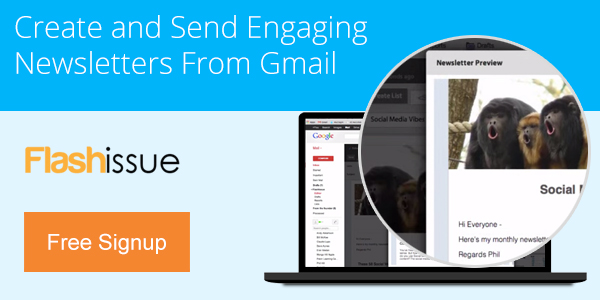 Related articles